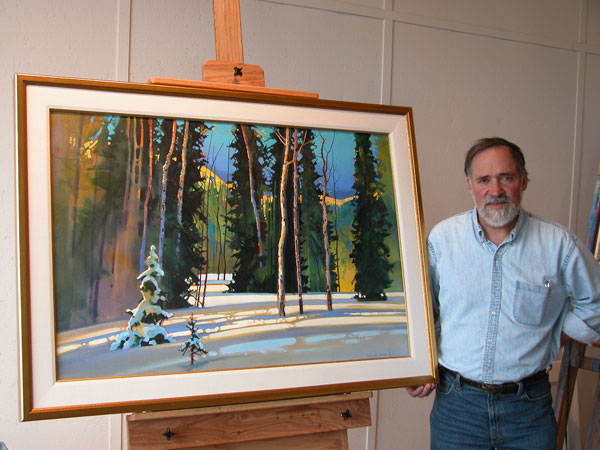 Juror
Stephen Quiller
www.quillergallery.com
Juror's Statement
It is indeed an honor and a privilege to judge the International Society of Acrylic Painter's Exhibition. It was an interesting process and I learned a lot. I looked carefully and was open to paintings that took me a bit deeper and also looked for an overall body of work that would present a well-balanced acrylic exhibition. Acrylic is a versatile medium and can be expressed in many different ways and on different supports. However, most importantly, the medium should serve the statement; the technique and approach to the medium should serve the personal nature and expression of the work.
Art, by its very nature, is a very personal thing. There is not an absolute right or wrong, or formula. That is what is so exciting about the act of painting. Every work takes its own path and has its own unique journey. We, as artists, all live for those special moments when the paint, brush, paper or canvas, hand, mind, and eye, all merge and flow together and the image seems to come effortlessly and paint itself. Those special times happen when we are most deeply connected with our inner being. Thus these certain paintings will most demonstrate our uniqueness.
When I jury a show, I look for many things. I look for the way the artist has handled the technical end of the painting- things such as color, composition and the various elements of design. This is what I consider to be the craft of the painting. But beyond that, and most important, I look for the artist's uniqueness of vision. This deals not with the subject, but with an individual energy and mark as well as a special way of seeing that is put down with paint on the support.
I applaud each and every artist that entered this show and congratulate the painters that have been accepted. It is a strong and beautiful exhibition. I wish all of you many new and exciting paintings and growth with your future work.
Sincerely,
Stephen Quiller
International Open Online Show Awards
$1000..…Best of Show
$800……ISAP First Place
$600……ISAP Second Place
$400……ISAP Third Place
$200……ISAP Fourth Place
$100……..ISAP Fifth Place
$500……..Holbein Artist Materials*
$500……Vermont Art Supply*
$125……Jack Richeson and Co., Inc (two awards)*
$100……Matboard & More (two awards)*
* Awarded as a merchandise certificate